What's New - Check out our latest featured products and more!
Home >
Stainless Steel Manifolds
Stainless Steel Manifolds
Our new Stainless Steel manifolds offer several great features:
Flexible, modular and singular design system
Easy-to-assemble construction
Precise flow control and balancing
Fittings for both PEX and Onix radiant tubing
Control for hydronic floor heating, fan coil heating, or baseboard heating
No sealant, no teflon
Stainless Steel manifolds are sold in 1 to 12-branch pairs for easy assembly in the field. They are 1" AISI 304 Stainless Steel and can handle up to 12 gpm. Manifold sections are easily connected together, if more circuits are required. Simply thread two sections together with the use of 1" manifold coupling and tighten. Make sure the gasket is installed prior to assembly.
Manifolds Are Sold In Pairs:
Balancing Valve Manifold (with optional Actuator)
Flow Indicator Manifold
Accessories
Accessories include Vent/Purge Assembly, Valve Actuator, Transitional Fittings, Mounting Brackets (standard with manifold pairs), and Lockable Manifold Boxes (Vent/Purge, End Caps, Trunk Isolation Valves and Transition Fittings all have flat gaskets that must be installed without the use of sealants or teflon.)
Flow Balancing
Balancing is achieved by either:
Adjusting the Balancing Knob, or
Adjusting the dial located under the Adjustment Cap. Dial is adjusted with the use of the Adjustment Key. The key comes attached to the manifold via nylon tie.
Flow can be visually fine-tuned by viewing the sight glass indicator while adjusting the balancing valve on the return manifold.
On-Off Circuit Control
For systems requiring individual circuit thermostatic control, an electronic Valve Actuator is installed. Valve Actuators are four-wire, to connect to the zone thermostat and use end switch wires to activate the circulator. With this arrangement, every room can be thermostatically controlled from one central distribution manifold.
Note:
Depending on the actuator style used, some circuit adjustment may be necessary. Additional flow control can be achieved by installing individual circuit isolation mini-ball valves. These valves allow for balancing and shut-off capabilities without having to remove the adjustment cap or thermal actuator.
Note
Stainless Steel Manifolds can be used to control fan coils or baseboard units, as well as floor heating.
Manifolds are not intended to exceed 87 psi at 194°F operating conditions
More Information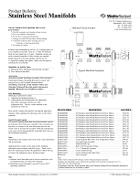 Product Brochure