What's New - Check out our latest featured products and more!
Home >
Neutralization Tanks
Neutralization Tanks
Neutralization Tanks are designed to receive, dilute and neutralize corrosive and harmful chemical wastes, before allowing such materials to be discharged in accordance with local environmental requirements. Standard Tanks are produced from top quality natural (off-white) Linear Low Density Polyethylene (LLDPE) resins. They are seamless, have uniform wall thickness and are free of stresses. All connections are welded into the tank wall or cover, both size and location are customized to the customer requirement.

T5 Cut-Away
Features:
Lightweight PE Resin; Natural Off-White Colour
Broad Size Range, Customized Connections
Inlet/Outlet/Vent
Chemically Resistant; Low Maintenance
In-Ground & Above-Ground Gasketted & Bolted Covers
Wide Range of Monitoring Accessories
pHpro Tank System Features:
Cylindrical T5- (bolted and gasketted moulded lid), or T6- (bolted and gasketted 1" thick flat plastic sheet lid with 1/8" thick scoriated aluminum cover) style tanks.
Standard roto-moulded sizes range from 5 1000 Imperial gallons /6 1200 US gallons.
Inlets, outlets, vents, waterfeeds, inspection ports, etc., in locations and numbers required as specified by the engineer.
Sediment interceptors, buffer tanks, neutralization tanks (using chips or acid/alkali injectors), sampling tanks.
pH monitors, audible/visual alarms, chart recorders, injector pumps, mixers.
More Information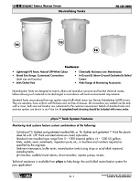 Product Brochure
Click here to download the Neutralization Tank Product brochure.